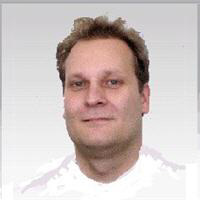 Welcome to my private Homepage!
Here is a little bit more information about me,
Carsten
who manages this site.
I will focus on the parts of my live that get me professionally where I am today. This means, that you will read a lot about computers. :)
The Beginning
I was born on 4/14/1974 in (East) Berlin/Germany (yes, you are thinking the right thing, the ex-communist Part of Germany).
I was 15 and in 9th Grade when the "Wall came down" on 11/9/1989.
I was interested in computers since the age of 12 but was unable to get my own computer before 1989 (computers were not readily available for everybody in East Germany).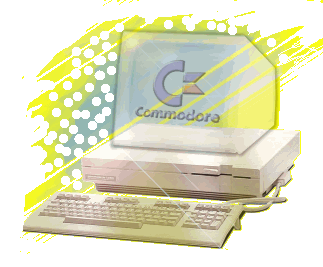 First Programming
My Dad had for a few months a Commodore 128D at Home from work in 1988. That's when I started to lean programming (C128D Basic) with the provided manual and by simply trying.
My First Own Computer
I finally got a Computer, an Atari 800 with Floppy Drive and Monitor, in the summer of 1990 which I only used to play games.
My Dad bought a PC (386 AT/25 MHz) beginning 1991. Neither me nor my Dad had ever used a PC before. We had to learn it the "hard way" because back then did PC's not come with the operation system pre-installed and configured.
It was not like an Atari, Commodore 64 or Commodore Amiga which you could at least turn on and do something with. Nope, the first thing we had to learn and do was the installation of DOS (DR.DOS 6.0).
The first thing I bought for the PC after a few months (from my own money) was a Soundblaster Sound Card which just came out at that time. I just couldn't stand the noise that came out of the PC Speaker when playing a game (everybody who remembers those times will "feel" me).
First time "Connected"
I bought a 2400 Baud modem in the beginning of 1992. The East and West German Phone Networks were still not 100% merged which meant that I had to dial the Area Code for West Berlin first to connect to a "local" BBS.

That's was not always easy because the number of possible phone calls between East and West Berlin the Network could handle at one time was very limited. Connecting to a BBS could take easy 10-15 minutes during prime time. Mailbox Systems in East Berlin were rare but became more and more available.
Beeing able to connect via Computer to another Computer and the ability to communicate with other "geeks" was a whole new experience, especially the access to national and international Mail Networks like FIDO and Zerberus. Keep in mind, that the Internet was still unknown at that time and usually only available to universities.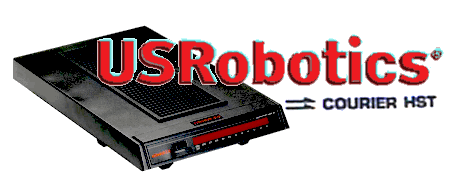 Getting Serious
I bought a "high speed" modem (US Robotics HST Courier 14.4 KB) in the summer of 1992 and that "was it". The PC moved into my Room and my Dad had to "fight" to be able to work on "his" Computer.
I moved out into my own apartment at the end of 1992. That's when it really started. I guess it was my "revenge" for the inaccessibility to an own computer, but I piled up 4 PC's, a Commodore 64 and a Commodore Amiga within a few short years. Why 4 PC's? Well, I had my own Mailbox System runing by beginning 1995. You can find out at
my "Closed Society" BBS info-page
at my oldskool scene website RoySAC.com.
I moved to the United States in 2000.
- top -
Coming to America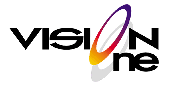 VisionOne, Inc.
is the company I worked for in
Fresno
between 1999 and 2007. VisionOne sponsored my Work Visa and my
Green Card
. I was working since May 2000 for VisionOne in Fresno. I was working before that one year for VisionOne Switzerland in St.Gallen where I did work 50% of my time on Web Projects and the other 50% on
SAP
Projects.
I used to be a 100%
SAP Consultant
before 1999. The VisionOne "thing" was more an accident actually.
I was supposed to work on SAP integrations into the Internet, which looked very promissing at the time.
SAP and Intel
created a joint-venture business called
Pandesic
, which was basically a "baby SAP" system with Microsoft SiteServer front-end. I was also trained in Pandesic, because VisionOne was one of the implementation partners of Pandesic.
I also was working on an implementation of Pandesic for a client,
BevMo.com
. Two weeks before the planned launch date did Pandesic closed their doors and all customer projects that were not live at that moment were abbandoned. This is one of the reasons why BevMo did select VisionOne for their now custom e-Commerce solution without Pandesic.
Pandesic and the whole integration of SAP into the Internet died as a result of the
Dot-COM-Crash
around 2000-2001. I did not see another SAP system for years and don't consider myself a SAP consultant anymore. I just didn't do it for too many years.

I was the
Head Developer
for the US Version of the
ShoWare
Ticketing Solution
. The current US Version was programmed for the most part in
ASP (Active Server Pages)
and
MS SQL Server 2000 Stored Procedures
.

Most Projects before ShoWare were
custom development
projects such as
Beverages and more!
eCommerce Solution at BevMo.com.
We developed the whole
eCommerce Solution
from the Front-end to the Order Fulfillment in the Backend to the interfaces to their existing POS and CRM Systems. I am still doing some work on this Website as a contractor from time to time.
The Custom Development is where the strength of the company lies. It's our Root. The Ticketing Solution kind of happened at the right time. The Ticketing business is now the main source of revenue for VisionOne US.
Just as a side note: I was also the Affiliate Manager (the counter part to Affiliate) for the BevMo.com Affiliate Program between 2002 and 2006.
- top -
Despite the looks, I am not a "Coder"
You can call me a "Geek" or how we say in Germany, a "Computerfreak", but do not call me a "coder" or worse a "programmer". It might seems odd to you that I say that, considering what I did and do, but you can trust me on that one. Let me elaborate this.
I started programming with the young age of 13 on a Commodore 128D, but do not consider myself a "programmer" or "coder" although I also did and do professional development for my company.
I learned to different extends a number of programming languages, mostly for the PC, but also proprietary languages for applications on a mainframe that ran under the Siemens BS2000 operating system, ABAP/4, a script language used for SAP (I developed ABAPs on SAP R2 and R3) and PPL, the script language for the PC Board BBS Software by Clark Development. I learned Cobol 85 and Turbo Pascal in school and did educate myself about Foxpro and Visual Basic.
Professionally did I only a program in classic ASP and a little bit in Visual Basic 6. I added T-SQL for SQL Server 7.0, then SQL Server 2000 and now SQL Server 2005 to the mix in 1999.
I never programmed just for the sake of it, like "real coders" or oldschool "Geeks" (I used to be active in the so called "Demoscene", but as artist and organizer and not as coder. If you know about the Demoscene, you will know what I mean). I do programming for much more practical reasons, but got over time pretty good at it, if I can trust the opinions of my colleagues, customers and friends :).
- top -
After Work
When I was done with work I used to like to go to my favorite Bar in Fresno,
Club Habanos
, which is just across the parking lot from the VisionOne Office which comes in handy after a long and stressful working day. I Chitchat with the other regulars, have a nice cold beer or play some billiard. I don't have the time for that anymore though, because of other activities. More about that in a moment.
- top -
Today - Cumbrowski.com, Affiliate Marketing and Blogging

I got to learn quite a bit about
Affiliate Marketing
,
Search Engine Marketing/Paid Search (PPC)
and
Search Engine Optimization
over tthe past years.
The times when I was a small Affiliate and hiding in a closet are over. I started in May 2005 to become more active in communication with merchants and networks. I extended those activities in 2006 and attended the Virtual Trade Show
eComXpo 2006
and also started sharing some of my knowledge by writing articles related to different Internet Marketing topics.
The whole thing actually grew into its own "thing" and is the reason why the family website moved from Cumbrowski.com to Cumbrowski.de.
Cumbrowski.com
was turned into a full blown and constantly growing
resources portal
for everything related to internet marketing plus some web development and sql server resources on top of it.
If you are a marketer yourself who is or plans to do business on the internet, I can definitely recommend to you to check the site out. I am absolute certain that you will not regret it.
The Homepage
is a good place to start. :)
I see no need to write things twice so
here is the link
to the "About" page(s) at Cumbrowski.com that explain what I do online in detail.

The site also functions as semi professional homepage for my new company called "
Cumbrowski Consulting, LLC
". I am self employed and make money as
affiliate
(paid search for the most part), making commission of selling other companies products and services. I also do some
internet marketing strategy consulting
on the site, where I lend my years of expertise in the various subjects of internet marketing and ecommerce to businesses who just started out or want to launch a commercial website on the Internet.

A lot of mine time is spend on
writing
for industry related blogs. I am a
blogger
at
ReveNews.com
, which is targeting internet marketers, specifically affiliate marketers and are an editor for
SearchEngineJournal.com
, which is a search engine marketing news blog.

I was nominated
for the
Affiliate Summit Pinnacle Award 2008
in the category "
Best Blogger
", which is very flatering for me. If I win the precious award will be determined at the end of February at the
Affiliate Summit West 2008
conference and expo at the Rio hotel and casino in Las Vegas, Nevada. Wish me luck! :)
I was a presenter and participant at a panel at the virtual tradeshow for internet marketing called
eComXpo
in Fall 2006 and asked for opinions by journalists, such as writers for the industries standard print magazine called
Revenue Magazine
. I also have contacts to various companies in the industry for various reasons, such as my blogging, being an affiliate advocat and because of my willingness to provide recommendations, feedback and suggestions to people who ask nicely for it.
- top -
Other Projects - Mediapolis, Inc.

I also work on my
Comparison Shopping Search Engine
Project called
ConsumerMatch.com
. It started small in 2001 as
Shop-Links.net
, but it grew since then into a professional Site with tons of information and professional look.
My Partner in the ConsumerMatch.com Project is
Bruno Boehi
, our company is
Mediapolis, Inc.
(yes, we generate quite some revenue and also have cost ;-) ).
The Project is currently "idle" and decisions need to be made what to do with it. I spend currently less than 1-2 hours a week on the site, which is virtually noting. The quality of the content is beginning to suffer badly, but that does not matter, because the site is for months already in Google's supplemental hell or removed from the indexes alltogether (I excluded a bunch of content via the robots.txt). I blogged about it in detail and also added a comment with updates
at my personal blog
.
- top -
Hobbies Today
Next to my activities for the ShoWare Ticketing Solution and BevMo.com at VisionOne, Inc. and ConsumerMatch.com at Mediapolis, Inc. am I spending the little spare time (also called "breaks" ;) or interruption of work) on things like watching movies, reading books and listening to music. I also spend time online.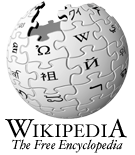 I "discovered" at the end of 2005
Wikipedia
for me. More Information about my me and what I do at Wikipedia can be found at
my User Page at Wikipedia
. Also visit
my Discussion Page at Wikipedia
to see the hot debates about content.
I started to develop an interest in it when I discovered the poor quality of some content about topics I am interested in and knew about a thing or two. I started to contribute and ... see for yourself.
Things at Wikipedia are a bit stirred up since April 2006.
Wikitruth.info
and the corresponding
Article at Wikipedia
made headline news. Reasons for that are some serious internal issues that need to be worked out. It got uglier during the weeks that followed when the Vote for deletion of the article was considered "non consensus" and the URL to
Wikipedia.info banned
across the Wikipedia Site. I blogged about this at
my personal blog
. I also had my
own frustrations
which I expressed on the new Google Pages I created with my new Test Account I got.

I started at the end of 2005 adding content to the cumbrowski.com site which was until then only a single page with a picture and contact information. I got the domain years back not for a Website, but as domain for my email address.
When I was adding information about me I was not getting around my time during the 1990's where I spent almost my entire spare time with my PC and Modem at BBS's and later maintaining my own BBS plus my time as worldwide successful ASCII and ANSI Text Artist with the pseudonym Roy or Roy/SAC because that was the signature used for all my Art Work.
Visit my
Roy/SAC Text Artist and Sysop Website
to check it out. The content grew since then and is now an important resource for the Text Art History. In February followed the addition of the
Roy/SAC Private ASCII/ANSI Text Art Blog
which I also use to talk about other things in my life. It is primarily about Art though.
I stumbled across
deviantART.com
in March 2006 or to be more precise, got stuck, because I came across the site several times before that. I got around to create an account and uploaded some of my art which I had handy because of my Roy/SAC Homepage. To make it short, a dA Senior member "recognized" me, or better Roy/SAC and made me without thinking twice a lifetime member of deviantART. I was baffled.
Since then is my
deviantART Homepage
growing and growing and they even "got me" to create new Text Art. I also reconnected with old and current SAC Members and are now working (slowly) on a real Homepge for SAC which is up to this day an Internet Nomand without any value.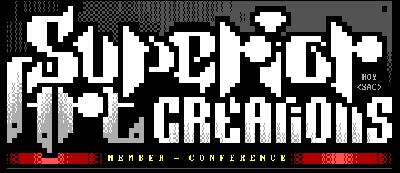 SuperiorArtCreations.com
will become the final home on the Internat for SAC. The most difficult (time consuming) part is the collection of all the Information and History of the Group.
The new and final Homepage of SAC is not meant to become a glossy brochure to "sell" the group.
The purpose is to create an as accurate as possible historic account of the the history of the group and the times and events it took part in.
It's is meant to become the heritage of SAC and it's members for the future generations to come who don't know BBS's, MS DOS and other roots of the current day computer technology. Text Art will live on for a while longer and SuperiorArtCreations.com should become one of many places for people interested in the Art of Text Art to learn more about it and it's history.

Since May, 30 2006 am I also an official Editor of the
Skaffe.com
International Directory and responsible for the English Category "
ASCII & ANSI Text Art
" which is a subcategory of "Visual Arts" in "Arts & Humanities".
The Category had no Editor when I stumbled across it earlier in 2006. I made the decision to apply as Editor on May 2, 2006. Skaffe.com is very similar to DMOZ.org also known as ODP, the Open Directory Project.
The Difference between Skaffe and Dmoz is, that Skaffe has a more professional attitude. It is self reliant and does not depend on donations. The Site is designed to monetize specific Areas and offer a very affordable Linux Hosting Service.
Regarding the Editorial work and process does Dmoz and Skaffe have a lot in comon. The only difference is, that most Skaffe Editors have a more realistic attitude towards commercial sites. As a matter of fact, it is prefered, if an editor of a commercial category is actually a professional that works in that area.
Edits are often double checked by other Editors to prevent abuse. Your quality score increases over time, the more you edit and edit good. This score built up over time allows you to apply for the next higher Editor Level, which gives you more permissions but at the same time more obligations and responsibilities that make it harder to keep the quality score high.
I believe this system has a future. Problems like the ones found at DMOZ or Wikipedia are much less likely. I also believe that DMOZ and Wikipedia will learn to see the positive aspects of the commercial internet and embrace it without selling out and without creating a conflict with the believe that information should be free and accessible to everybody.
Update 10/2007: I was wrong. I had some content to add to the category and found out that my editor account was deleted. They said that you should make an edit every few months or so, but if there is nothing to edit, what should I do, a bugus edit to say that I am alive? I only had a small category to edit, no open submissions to review and my sugestions to add sub categories to be able to list some of the sites that cover a lot of the general subject more than once (deep links). When I did that in my category, did another editor complain about it, great. Well, I left a not at the editors forum. You can see the discussion there (starting with my "Welcome" message when I started).
German Background Info and Resources
Okay, so I am obviously German, but that is actually only a very vague definition, because "German" covers a lot of different things, not only geographically, but also lingual and cultural. There are three countries that use "German" as the only one, or one out of many official languages. Okay, technically five countries, if you count Lichtenstein and Luxembourg as countries really :). The Federal Republic of Germany, better known as West Germany and after October 3rd 1990 simply as "Germany", Austria and Switzerland; and Lichtenstein and Luxembourg. Some form of "German" language is also spoken in parts of current day Poland, the Netherlands, France and the Czech Republic.
I am from Berlin, wich is located in the part of Germany that used to be called "Prussia". The geographic area that used to be Prussia is still large and different German dialects are spoken across it.
The German writen language is for the most part identical, if you dicount the spelling out of regional slang. The differences in the spoken language on the other hand can be very significant, with "Swiss German" probably being the most extem example for the deriviation of the spoken words and pronounciation from the written version.
We speak in Berlin our own distingt dialect and developed also somewhat of our own culture, similar to New York (which is a good comparison). It is very possible that two people from different regions speaking just their native dialect won't understand each other, at least not immediately. You get better at understanding a different dialect, the more you are exposed to it.
Here is a small image that shows the major dialecs and their use on a map. Click the image to enlarge it.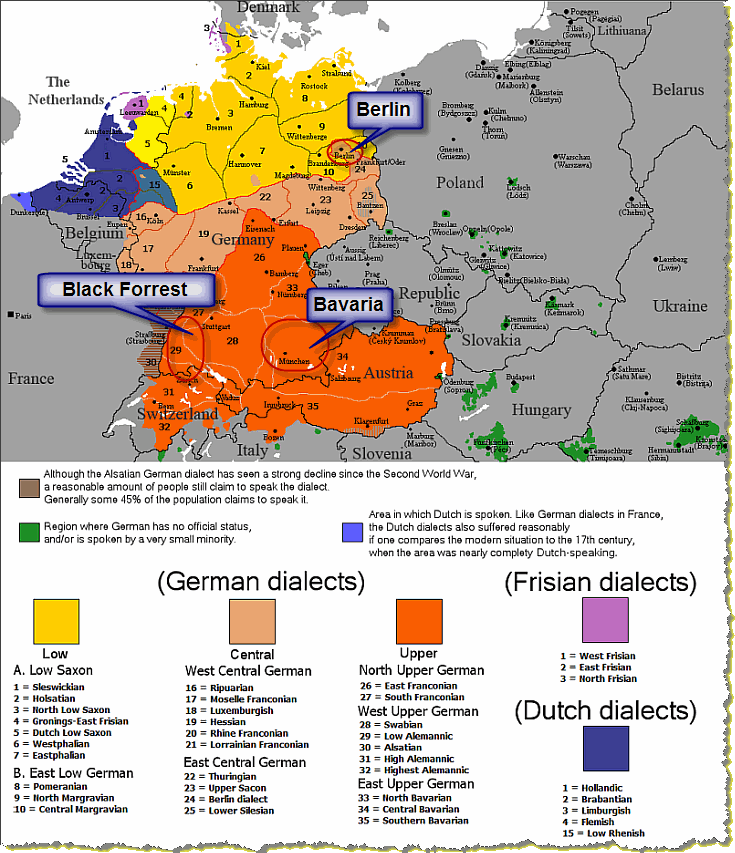 To learn more about the specific spoken dialects in the German language, check out this compact 101 article.

German cultural exports are often limited to Bavarian culture, or that is the culture that people in other countries and regions of this world associate with "German". This includes "Oktoberfest", those short and funny looking leather pants and hats that look like as if they have a "shaveing brush" attached to it; also "Prezel", "Weissbier" aka "Hefeweizen" (<> beer) and "Weisswurst".
All that is Bavarian culture, which is only a part of Germany in the South, next to the Austrian border. Those big white farm houses that you know from pictures of the Black Forrest region, is actually only typical for the Black Forrest region, which is located in Baden-Wurtemberg, located west from Bavaria at the Swiss and French border. Okay, the farm houses in Bavaria look also similar, but that's about it.
Bratwurst or sausages in general, kraut (including Sauerkraut) and Beer (mostly Lager or Pilsener) are probably the few things that all Germans know, have and like.
Check out the following resources to learn more about other facts and details about Germany.
- top -
Where can you find me? Contact Information
There are plenty of ways to get in touch with me.
Check out my
Social Media Accounts and RSS Page
at Cumbrowski.com and my
contact page
, which also has a form to send me a message right from the browser and various other means to get in contact with me.
---
- top -
- top -